Choosing the Best Composite Cedar Shingle Siding
The Legacy of Cedar Siding in America
Historically, cedar has been a favored material for home siding in many parts of the United States. The natural abundance of cedar made it a readily available resource, which led to its widespread use in the construction industry. With a rich history dating back to colonial times, cedar siding has been integral to American architecture by transforming residential buildings into picturesque homes that blend seamlessly into their natural surroundings.
The appeal of cedar extends beyond its aesthetic charm. As a siding material, cedar offers several practical benefits:
Natural oils make it resistant to rot, decay and insect damage, which can considerably prolong the lifespan of siding products made from it

Strong insulating properties enhance energy efficiency to help keep homes warmer in winter and cooler in summer

Remarkably workable, for easy shaping, sizing and installation, which further contributes to its enduring popularity
Issues with Traditional Cedar Shingle Siding
However, some concerns with traditional cedar shingle siding need to be addressed:
Multiple Shingles 
Traditional cedar shingle siding, while aesthetically pleasing, presents a unique set of challenges due to its composition. The sheer number of individual shingles used in this type of siding dramatically amplifies the potential for problems. Each tile is a potential entry point for moisture, insects or even small vermin. Over time, the weather can cause the shingles to warp, crack or split — which then necessitates immediate repair to prevent further damage.
Increased Maintenance
Furthermore, cedar shingle siding requires a substantial amount of maintenance. Each shingle needs to be properly sealed and periodically resealed to prevent water damage and decay. This process can be labor-intensive and time-consuming, particularly when there are so many shingles involved. Without regular maintenance, the lifespan of cedar shingle siding can be significantly reduced, which can lead to more frequent and costly replacements.
Additionally, the inconsistency in size and shape of individual shingles can lead to uneven wear and tear. Certain areas may be more exposed to the elements, resulting in a patchy appearance over time. The allure of a uniform, cohesive exterior can quickly diminish when faced with the reality of maintaining traditional cedar shingle siding.
Upkeep Costs Need to be Considered
Consequently, the allure of natural cedar shingle siding may be eclipsed by the cumulative cost of its maintenance — both financial and otherwise. Homeowners must consider this when choosing their siding material, as what may initially seem a more affordable option can, over time, prove to be a more expensive and labor-intensive choice.
What is Composite Cedar Siding?
Composite cedar shingle siding is a modern, more durable alternative to traditional cedar. It is made from a blend of high-performance materials that are engineered to replicate the authentic look and feel of natural cedar shingles. This innovative siding material maintains the aesthetic charm of cedar with its innate texture and warmth but without the associated maintenance challenges.
The composite material is resistant to rot, cracking and insects to significantly reduce the need for regular maintenance and to help make it a cost-effective siding choice in the long run.
AZEK Captivate Shingle Siding: Embracing Cedar's Charm with Contemporary Strength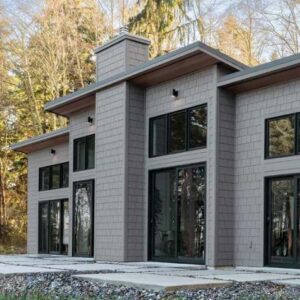 Material Benefits
AZEK Captivate Shingle Siding stands out due to its fantastic material benefits. It is highly durable and engineered to withstand extreme weather conditions. Unlike traditional cedar, AZEK Captivate Shingle Siding retains its form and structure and resists warping and expansion, even in harsh climates. 
Other benefits include:
It is impervious to UV rays to help ensure that it doesn't fade or discolor over time and to preserve its attractive aesthetic appeal

Its superior moisture resistance eliminates the risk of mold, mildew or fungus growth, which can compromise the integrity of traditional cedar shingle siding

It offers fire resistance for an additional layer of safety for your home. 
These important qualities make AZEK Captivate Shingle Siding a reliable, low-maintenance and long-lasting solution for homeowners seeking the charm of cedar without the associated upkeep.
Aesthetic Benefits
Azek Captivate Shingle Siding isn't just about durability — it's also about style and elegance.
It is designed to replicate the authentic, natural beauty of traditional cedar shingles. From the subtle textural nuances to the characteristic wood grain, every detail is meticulously emulated to create an aesthetic virtually indistinguishable from real cedar.
In addition, Azek Captivate is available in a wide range of color options, which allows homeowners to choose a look that perfectly complements their home and personal aesthetic preferences. Whether it's a classic cedar hue or a more contemporary color palette, Azek Captivate has you covered. The color is deeply ingrained into the siding for a lasting finish that does not fade over time.
Furthermore, Azek Captivate shingle siding offers the flexibility to customize the layout and arrangement of your siding, whether it's a traditional staggered setup or a more modern straight-edge design. This type of versatility enables homeowners to achieve a unique, personalized look for their home exterior.
By blending traditional charm with modern design flexibility, Azek Captivate Shingle Siding creates an aesthetic appeal that is truly unmatched.
Azek Captivate: Three Different Configurations Options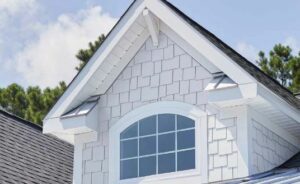 1. Cedar Shingle Options
Straight Edge
The straight-edge configuration provides a clean and contemporary look. Its uniform edges and smooth lines fit seamlessly into modern architectural designs to give your home a sleek and refined appearance. 
Plus, the staggered-edge shingles depicted in the image above adds a layer of artistic flair to your exterior home aesthetic.  
2. Board and Batten Options
Board and batten siding configurations can further expand the possibilities for homeowners. This style, often used in American architecture, adds a distinct visual interest to the exterior of a home.
Traditional Board and Batten
The traditional board and batten configuration is characterized by wide boards and narrow battens. From rustic farmhouses to sleek modern homes, the alternating pattern of wide and narrow vertical panels creates a timeless aesthetic that suits a range of architectural styles.
3. Captivate Trim
For homeowners seeking to elevate their home exterior beyond siding, Azek offers the Captivate Trim. It is the perfect complement to Azek Captivate Shingle Siding, and it provides a complete and cohesive look. The trim, like the siding, is made from advanced composite material to help ensure durability, resistance to the elements and long-lasting beauty.
Reveal the Classic Beauty of Cedar with AZEK Captivate Shingle Siding from Russin
Experience the best of both worlds with AZEK Captivate Shingle Siding from Russin. Don't compromise on aesthetic appeal or maintenance ease. Embrace a siding solution that enhances your home's exterior while ensuring unparalleled longevity and minimal upkeep. 
Are you ready to redefine your home exterior with the timeless allure of cedar without the associated maintenance hassles? Explore the diverse range of AZEK Captivate Shingle Siding options at Russin today.
Contact us now for more information!