Deckorators Decking 101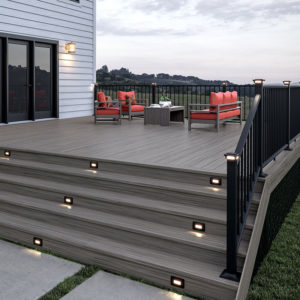 If we all learned anything from the 2+ years of lockdowns, it's the value of outdoor space. Pandemic life brought forth a new appreciation for our decks, patios and screened in porches, and that appreciation is here to stay. 
Decking especially has gained fresh momentum as homeowners across the country have embraced different materials, colors and accessories to make the most of their properties.
Decking Material vs Alternatives
If you're looking to add an outdoor deck or patio, you may consider using decking rather than stones or concrete. Decking is usually made from wood or composite materials and is a popular choice for homeowners because it's strong and easy to care for. 
However, there are a few things you should consider before choosing decking material for your home projects—such as climate, maintenance needs and budget.
How to Choose the Right Decking Material for Your Needs
The best decision will be made by considering the following:
If you are located in an area with drastic temperature changes, it is essential to choose a material for your deck that will not warp or crack under extreme heat or cold.

Second, think about the overall design aesthetic you want to achieve. Do you want a more modern look or a more natural wood style? Decking materials are available in various colors and styles, so you'll be sure to discover something that matches your preferences.

Always remember the amount of care and maintenance your new deck will need. Some materials will have to be regularly sealed or stained, while others don't require any upkeep.
By taking into account these factors, you can choose the right decking material for your needs.
Different Types of Decking Materials Available on the Market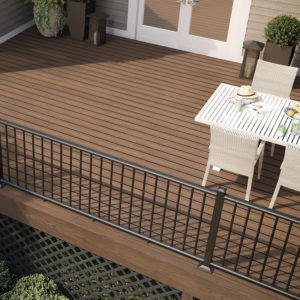 Before you choose the decking material that's right for your home, there are a few details to think about. For starters, what style are you going for? Some of today's most popular choices include pressure-treated lumber, cedar and composite decking. Consider each type of material carefully before making your final decision—every option has different advantages and disadvantages.
Wood Decking
Pressure-treated lumber is one of the most affordable options on the market and it is fairly easy to maintain. However, it is important to note that this type of decking material is susceptible to rotting and warping, and will require power washing and restaining as it ages. 
Composite Decking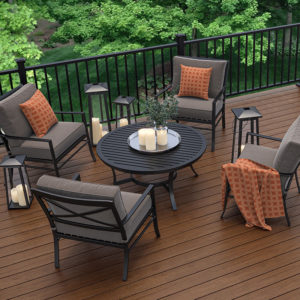 Composite decking is an increasingly popular choice due to its low-maintenance requirements, resistance to wear and tear and its ability to stand up under intense UV exposure from the sun. However, there are many options in this category, so here are a few things to consider before making your final decision:
The first consideration is your budget. Composite decks can range in price, so it's important to set a budget before you start shopping.

The second factor is the aesthetics of the deck. When composite decking first came out, it looked like plastic. Modern composites have evolved to look more authentic today.  Composite decks come in all sizes, so it's important to measure the area where you want to install the deck

before

you make a purchase.

The third and final thing to consider is the warranty. Some composite decks come with a limited warranty, so it's important to read the fine print before you make a purchase.
Deckorators Composite Decking is the Smart Choice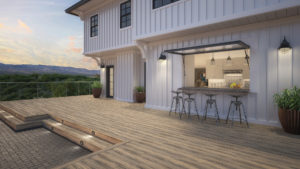 How would you make the best composite decking? Polyvinyl chloride (PVC), which is a plastic resin used in various building materials industries applications, is one popular mix. It's a popular choice because it is low-maintenance and is extremely resilient.
Wood-plastic composites (WPCs) are made by mixing wood fibers and plastic at a very high temperature. WPC was once considered the most reliable composite decking material because it is durable and easy to clean. In addition, it comes in many colors and textures.
Deckorators Engineered Deck Boards Changed All That
Deckorators' Vault and Voyage decking lines are mineral-based composite (MBC) deck boards. In other words, there are no wood fibers in the product. It is one of the strongest decking products on the market and is exceptionally robust. It's made from a combination of high-tech plastic polymers and minerals extruded to create a fiber-like structure. This makes it very light, but also strong, with similar weight strength proportions to wood. However—unlike wood—mold, rot, insect infestations and splinters are rarely an issue.
Enhanced Traction
Enhanced Traction, a Deckorators feature, provides at least 34% more traction than other engineered materials, making your deck a safe place for family enjoyment.
Unparalleled Warranty Protection
Deckorators offers an outstanding 50-year structural warranty and also comes with a 25-year stain and fade warranty, plus the manufacturer provides a 25-year removal and replacement labor warranty — giving customers true peace of mind.
Deckorators is Strong, Durable and Beautiful
Deckorators' Voyage decking line is the best on the market thanks to its patented mineral-based composite technology. It provides unmatched strength and a fiber-like structure similar to wood while also being 35% lighter than traditional composite materials. Plus, there are six different color patterns available to create that custom look for your home.
Russin Specializes in Wood and Composite Decking, Flooring and Siding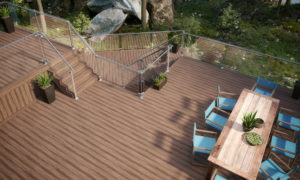 At Russin, we only carry the best brands of building materials because we believe that's what our customers deserve. We're not just here to sell building materials — we're here to serve as a guide for our customers. Whether you're a contractor, homeowner or designer, we'll be with you every step of the way.
Contact us today to speak with one of our product experts.