What Are the Differences Between a Cedar vs. Pressure-Treated Deck?
Are you looking to create a stunning outdoor living space? If so, then look no further than cedar decking. 
In this article, we'll discuss the differences between cedar and pressure-treated wood, including their benefits and drawbacks. We'll also analyze why cedar is the superior choice for most homeowners when it comes to decking materials. 
Finally, we'll provide information on where you can find high-quality cedar decking products that are custom milled and factory finished to help you create an outdoor living space tailored to your unique needs.
Cedar Decking: An In-Depth Look
Overview of Cedar as a Decking Material
Cedar decking is admired by homeowners for its natural beauty and durability. Its unique color and grain texture bring a touch of nature to your outdoor space to create a warm and welcoming environment.
Western Red Cedar
Cedar, specifically Western Red Cedar, is often the top choice for decking material due to its structural soundness and ease of handling. This lightweight wood allows for a smooth construction process, which makes it ideal for building a lasting outdoor space.
The Benefits of Choosing Cedar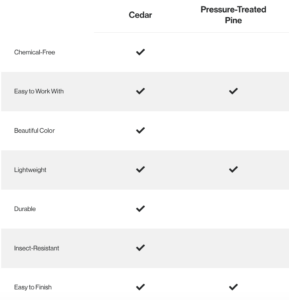 Cedar decking comes packed with natural benefits. It contains natural oils that repel pests and enhance its resistance to moisture better than most types of wood. This resistance is especially important as it helps prevent rot and prolong the life of your deck.
One of the greatest advantages of cedar is its natural beauty. Cedar decking, with its rich hue and distinctive grain pattern, offers an unmatched aesthetic that can complement any style of home. This, along with its durability and resilience, makes cedar a high-value addition to any project
Pressure-Treated Decking
While pressure-treated wood is often marketed for its longevity and affordability, it has several shortcomings that are important to consider. For one, cheaper variants of pressure-treated wood are often laden with moisture and tend to shrink unevenly and twist as they dry. This warping can lead to an unsightly deck, and diminish the overall aesthetic appeal of your outdoor space.
Another key drawback is the lack of consistency in the quality of treated woods. Not all pressure-treated woods are created equal, and you may find yourself paying more for higher grade options in order to ensure fewer knots and straighter grain.
Cedar vs. Pressure-Treated Decks: A Side-by-Side Analysis
When comparing cedar to pressure-treated wood, it becomes apparent that cedar is the superior choice for many reasons.
Cedar offers a blend of affordability, sustainability and beauty that is hard to match. Unlike pressure-treated wood, cedar doesn't require the use of harsh chemicals during its production, so it is a more eco-friendly choice. Cedar's natural resistance to rot and pests, coupled with its natural beauty and ease of workability, far outweighs the benefits of pressure-treated wood.
One of the key factors that sets cedar apart from pressure-treated wood is the overall aesthetic appeal. While pressure-treated wood may warp and lose its appeal over time, cedar, with regular care, can retain its rich, natural look for many years. The natural look of cedar tends to complement a home's exterior design better than pressure-treated wood, to add to the overall aesthetic value of your home.
Making Your Decision: Factors to Consider
When deciding on the right decking material for your project, it's important to consider the following factors:
Budget
Cedar offers a balance between cost and value, often falling between pressure-treated lumber and high-end composite decking in terms of price.
Maintenance
Although cedar requires regular maintenance, the end result is a deck that maintains its beauty for years to come.
Aesthetics
If you're after the classic, natural look and feel of real wood, you can't go wrong with cedar.
Longevity and Durability
Cedar's natural resistance to rot and pests makes it a durable choice for decking, to potentially provide many years of outdoor enjoyment.
Achieve a Natural Look and Feel with Russin Cedar Decking Products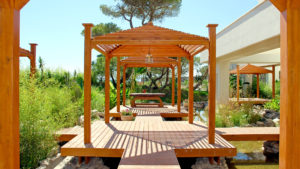 Choosing the right material for your decking is a critical decision. Cedar and pressure-treated wood each have their places in the decking world, but the natural beauty, durability and eco-friendly nature of cedar makes it the superior choice for most homeowners.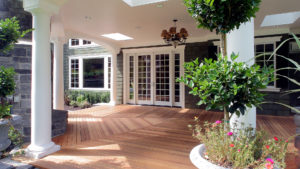 Russin – Western Red Cedar Decking
At Russin, we offer a wide range of cedar and other high-quality deck products, along with some of the most experienced cedar experts in the business. With our custom milling and factory finishing, you can achieve the perfect outdoor living space tailored to your unique needs.
Contact us today to learn more!