New England-Style Architecture: 8 Design Aspects and Ideas
New England-style architecture is a design style known for its Colonial-inspired features. In many ways, it represents the rich culture and history of the area.
When the British arrived in the New World, they brought their traditional building practices and architectural opinions from England. Using the available materials, the colonists constructed timber-framed houses with steep roofs. The earliest homes were likely hastily built cabins, built with pragmatism in mind. For example, to protect against the cold winter, the colonists added sloping saltbox roofs, which they named after the shape of the boxes used to store salt.
While the style may have evolved, this aesthetic has remained an iconic and beloved symbol of the Northeastern U.S.
From large and luxurious homes to small and cozy cottages, this style is a timeless reminder of the history and culture of the region. We're looking at the most prominent features in New England-style architecture to help inspire your next project.
8 Design Aspects of New England Architecture
1. Symmetry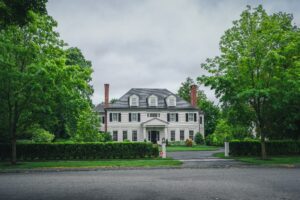 From gables, eaves, shutters and columns, the use of symmetry in New England-style architecture helps create a sense of order. By using balanced elements and shapes, the architecture creates a sense of unity and harmony within the design.
This emphasis on symmetry also helps to create a sense of stability and permanence. Using symmetrical elements makes homes appear more solid and secure, helping to create a feeling of security.
2. Gable Roofs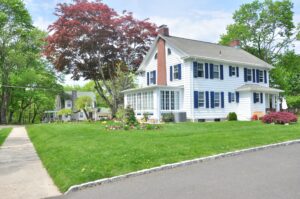 One of the most iconic features of New England-style architecture is gable roofs. A gable roof has two sloping sides that meet in the middle to create a triangular shape with an open space at the top — this open space is called a gable.
The use of gable roofs in New England-style architecture provides several advantages. First, the shape of the roof is solid and durable, allowing it to withstand the region's harsh weather conditions. Additionally, they help create that sense of symmetry that we just mentioned. 
Finally, gable roofs provide a great deal of interior space and natural light, which helps to create a comfortable and inviting living space. It's no wonder that gable roofs are such a popular feature in New England-style homes.
3. Dormer Windows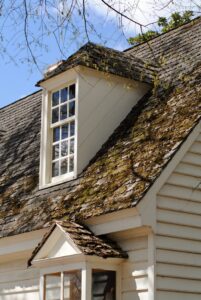 Dormer windows are vertical windows that extend from the roof to provide extra sunlight and ventilation to a home. These windows are typically built as a gable and are often a decorative feature. They can also provide more headroom in an attic or upper-level area.
Dormer windows provide an interesting contrast to the roofline and add a charming architectural element to the home's facade. The combination of the gable roof and the dormer windows are some of the key features of New England-style architecture. If you want to ensure your home fits the motif, include dormer windows!
4. Shutters
New England-style architecture has a distinctive focus on shutters. In the early days, shutters protected windows and doors from storms, snow and other elements. Shutters also provided privacy and security in an era without glass windows or doors.
In addition to providing protection from the elements, shutters also had an aesthetic purpose. Traditionally, shutters were painted in bright colors to brighten up the home's exterior. Today, shutters are generally just decorative.
5. Columns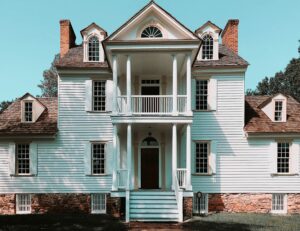 Columns are a prominent feature of New England-style architecture. When used strategically, they can create the appearance of grandeur. The columns in New England-style architecture are typically square or round and are often arranged in symmetrical patterns.
In addition to providing an aesthetic appeal, architectural columns also add practical benefits. For example, they can help support the weight of the home and provide additional stability in extreme weather.
6. Clapboard Siding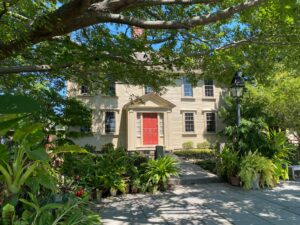 Clapboard siding, also called bevel siding, is a type of wood siding made of narrow overlapping boards. It's also the most popular type of siding used on colonial-era homes. For clapboard siding, you install the boards horizontally, overlapping from bottom to top, with the bottom of the board overlapping the top of the board below it. This overlapping creates a weather-resistant seal that helps to protect the home from the elements.
Clapboard siding is popular for its durability and low maintenance requirements, especially with a high-quality option like Western Red Cedar Siding. In addition, factory finishing will enhance the longevity of your cedar siding and trim significantly — giving you peace of mind for years to come.   
7. Trim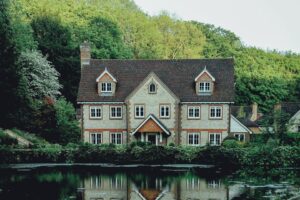 No New England-style home would be complete without trim. On New England-style homes, the trim is typically placed around windows and doors, as well as the eaves, gables and other areas of the house. When applied thoughtfully, trim can also create a more symmetrical look by emphasizing certain elements more than others.
It's important to note that not all trim is created equally. With this style of home, you'll want to choose a premier wood trim, like Western Red Cedar boards. However, if rot resistance is your top consideration, consider an option like AZEK Captivate, which retains the appearance of wood while being completely impervious to moisture. Additionally, AZEK Captivate comes pre-painted in the color you choose which eliminates the labor-intensive task of painting your trim. 
8. Paneling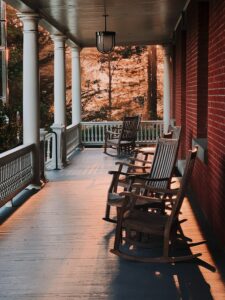 Porches are often seen as the defining feature of New England-style architecture. They typically wrap around the home and are usually large enough to accommodate seating. They're also usually covered, so you can use them year-round.
Just like with trim and siding, you'll want to ensure the flooring, ceilings and paneling can endure the climates of the northeast. That's why you'll want to again choose an option like Douglas Fir for flooring. Similarly, Western Red Cedar Boards or  White Pine Paneling are terrific for inside your New England-style home.
Start Creating Your Dream New England-Style Home with Russin
If you're ready to start creating the New England-style home of your dreams, we can help. At Russin, we're known for our high-quality and durable wood and composite building materials and top-tier, concierge support.
With our premier product line, we can help bring your New England-style design to life. Contact us today to learn more!