Rustic Elegance: Pine Cladding Design Ideas for Modern Living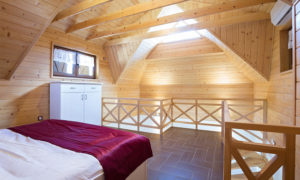 Pine cladding isn't just a design choice — it's an embrace of nature's craftsmanship. Pine possesses an attractive light hue interspersed with beautiful natural grain patterns that can be both understated and pronounced.
Pine has more than just aesthetics going for it. It's renowned for its durability and resilience, which makes it a practical choice. It also has excellent insulation properties, which are essential for interior cladding. This means you can enjoy a more comfortable indoor climate with cozier spaces in the colder months and cooler temperatures during the summer.
Fusing Style and Functionality
Wood paneling evokes a sense of nostalgia, reminiscent of classic libraries, grand halls and cozy cottages, but it's not just about revisiting the past — wood paneling has modern applications, too. Think of sleek contemporary homes with minimalist pine panels or chic industrial lofts that use pine interior cladding to soften the hard edges of metal and concrete.
The wood-paneled aesthetic is about mixing the warmth of the past with the design sensibilities of the present. Wood paneling is versatile, with the ability to be stained, painted or left in its natural state, and offers a multitude of design opportunities.
Pine Paneling: Why It's a Top Choice for Interior Design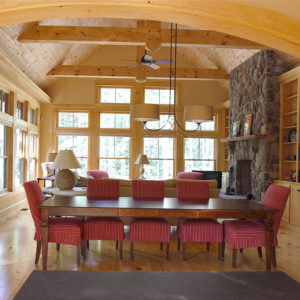 Pine cladding's rising popularity in interior design can be attributed to a multitude of factors.
The enchanting aesthetic of pine can create a sense of calm and serenity, much desired in a world where life often feels rushed and chaotic. Its light, warm tones and distinctive grain patterns add character and texture to any space whether it be a rustic country house or a modern city apartment.
Pine's inherent durability and insulation properties are highly praised. It stands up well against wear and tear, for longevity and sustained beauty. The insulation properties of pine make it a practical choice for interior cladding because it enhances energy efficiency contributing to a comfortable living environment year-round.
Pine is a sustainable and budget-friendly option. It grows faster than most hardwoods to help ensure a readily available and renewable source that does not strain our precious natural resources.
The affordability of pine compared to other woods makes it an attractive choice for those wanting to achieve a luxurious aesthetic without breaking the bank.
In light of these benefits, it's no surprise that the demand for pine cladding is on an upward trajectory. The ability to blend functionality, style and sustainability makes pine a top choice for interior cladding and paneling.
The Versatility of Pine in Interior Paneling
The beauty of pine cladding lies in its incredible versatility. Whether in a traditional setting or a contemporary design, pine panels add an element of natural elegance that is hard to match.
In traditional designs, pine paneling can bring a rustic charm to enhance the cozy and homey feel of the space. Its stunning natural grain pattern and warm tone serve as a beautiful backdrop that adds depth and character to the room.
In modern designs, the light color can help to create a sense of spaciousness and minimalism. Its clean lines and sleek finish can bring a touch of sophistication to any contemporary space.
Moreover, pine can be easily stained or painted to match your style or the existing color palette of your home. Whether it's a rich espresso finish for a dramatic effect, a light whitewash for a beach-inspired look or its natural, untouched state for an authentic rustic appeal, its adaptability is truly unrivaled.
The Environmental Impact of Choosing Pine Over Other Materials
The production process of pine cladding contributes less to air and water pollution, as it requires simpler, less energy-intensive methods. Furthermore, pine trees absorb carbon dioxide as they grow, thereby reducing greenhouse gas emissions. Upon their maturity, the pine trees are harvested to make room for more young trees, and thus continue the cycle of carbon absorption.
At the end of its life cycle, pine paneling can be repurposed, recycled or composted to minimize waste and further contribute to its environmental benefits. These factors, coupled with the fact that pine is biodegradable, make it an eco-friendly choice.
Russin's Pine Cladding Options
Pine Paneling
When it comes to interior cladding, white pine paneling is an excellent option offered by Russin. Celebrated for its delicate, light color and straight grain, white pine adds a touch of subtle elegance and sophistication to your interiors. Its smooth texture and uniform pattern make it an ideal choice for those seeking a minimalist, clean aesthetic.
White pine is also known for its impressive durability and insulation properties to help ensure that your interiors are not only aesthetically pleasing but also energy-efficient and comfortable. Russin offers two design options:
Beadboard Paneling
Russin has a variety of beadboard profiles, including tongue and groove, to suit your needs. Our beadboard paneling options are available in Ponderosa Pine and Eastern White Pine and range from clear to knotty grades, including Supreme. 
Whether you prefer a rustic country feel or a more refined look, our classic paneling is easy to install. Our in-house factory finishing will ensure that your beadboard paneling is customized with the perfect stain or color to complement your interior design.
WP-4 Paneling
Russin's WP-4 profile offers a range of Eastern White Pine choices, including Supreme. With its tongue-and-groove vee-joint face, installation is quick and easy, creating the timeless charm of classic pine paneling in various sizes and lengths. Opt for knotty grades for a rustic feel or choose clearer fine carpentry grades for a modern touch. Don't forget to inquire about our in-house factory finishing services to ensure your paneling has the perfect finished look.
Eastern White Pine Boards
Eastern White Pine boards have the beautiful charm of pale pine along with easy workability, flexibility and a wide range of grades. At Russin, we take pride in our extensive inventory of Eastern White Pine grades and products, including finish and appearance grades as well as standard grades. Whether you're looking for knotty grades or 100% clear options, we offer an incredible assortment of species, sizes, grades and products to suit your needs. 
When you need the convenience of pine, count on Russin to be there for you. Our in-house custom milling and finishing services are available to ensure that your choice meets your exact requirements.
Reinvent Your Space with Russin Quality Pine Cladding
Explore the extensive range of interior paneling options at Russin. Our knowledgeable team is ready to guide you in choosing the right paneling product that suits your style and needs. Don't wait to bring your interior design visions to life.
Contact us today and let us help you reinvent your space with the charming allure of pine!