What Makes Deckorators Mineral-Based Composite the Top Alternative Decking Material?
Choosing the right decking material can mean the difference between long summers of relaxation and a high-maintenance regret. Whether you're choosing a material for your own home or recommending a material to a customer, many of the same needs apply: you need a decking material that will stay sturdy and durable for a long time, require minimal maintenance, and still look beautiful year after year. There are a number of composite decking materials on the market.
Mineral-Based Composite
So what makes Deckorators the right choice for your next decking project?
A composite deck is made up of manufactured boards that contain more than one material. This means that within the composite market, you have choices.
One popular composition is polyvinyl chloride (PVC), which is a plastic resin used widely across many applications within the building materials industry. Well-known PVC decking brands include Azek and Wolf decking. It's a common choice because it's low maintenance, often uses recycled materials, and is extremely durable.
Perhaps the most familiar composite material is a wood and plastic composite, or WPC. These include wood fibers mixed with plastic at a very high temperature. Popular WPC composite brands include Trex and Timbertech, among many others. For a long time, WPC was the most trusted composite decking material because it's durable, easy to clean, and can come in a wide variety of colors and textures.
Then came Deckorators.
Deckorators mineral based composite (MBC) decking is the strongest decking in the world, and one of the most stable options on the market. It is made of a blend of advanced plastic polymers and durable minerals, combined and then stretched (pull extruded). The results of this process are a fiber-like structure that is extremely lightweight and strong, with a strength-to-weight ratio similar to wood. Deckorators MBC boards contain zero wood fibers, which make common pitfalls like mold, rot and insects virtually non-existent.
Simply put, MBC is the new leader in composite decking materials, and Deckorators is the leading MBC producer. Mineral-based composite decking from Deckorators offers a staggering array of benefits.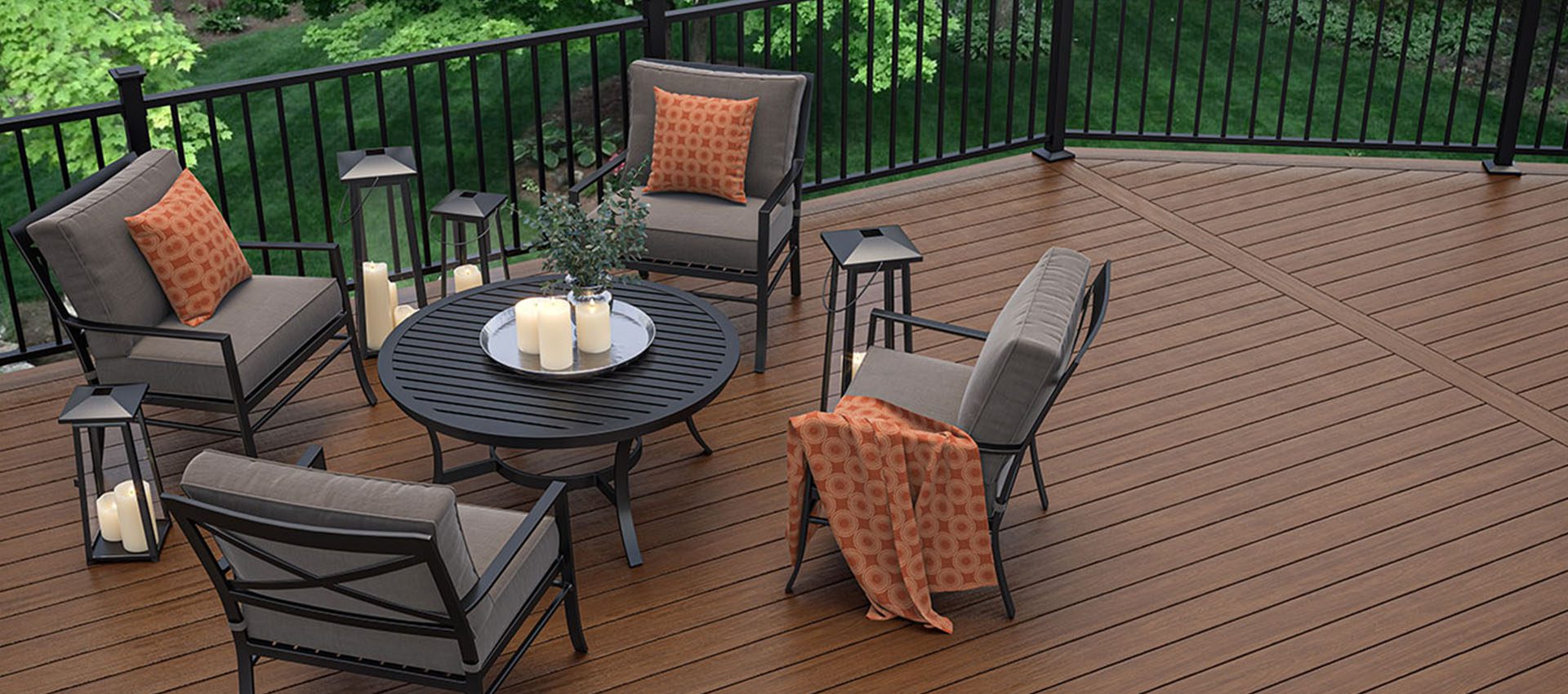 Strength-to-Weight Ratio
Deckorators MBC offers a strength-to-weight ratio that is unrivaled in the composite market. What does this mean? It means that each Deckorators deck board is extremely strong, with a high weight capacity that won't sag or bow over time, while also being very lightweight, making the installation process easy and less back-breaking than heavier materials.
Deckorators MBC boards are much more lightweight than traditional WPC boards – 36% lighter, in fact. Though PVC boards are also known for being light, they are notoriously difficult to work with and they do not offer the same strength as MBC. This makes Deckorators the clear leader if you're looking for a composite decking material that will install with ease while remaining structurally sound for decades.
Highly Stable with Zero Thermal Expansion
You don't just need your deck to be strong over the years. Stability of the boards is equally important to the longevity of your composite deck. Stability refers to the ability of the board to resist expansion and contraction based on the weather, as well as its resistance to cracking, splitting and warping.
Deckorators MBC offers astounding stability due to its unique composition and manufacturing processes. In addition to experiencing virtually zero thermal contraction or expansion (a main cause of splits and cracks), Deckorators MBC boasts less than 0.05% absorption after soaking in water for 24 hours, and comes with a stain- and fade-resistant capstock backed by a 25 year warranty. These boards are so stable, they're approved for ground or water contact installations.
Compared to WPC or PVC boards, Deckorators MBC is truly a cut above the competition. PVC is more prone to fading and discoloration as well as shrinking and expanding with heat and water. WPC materials can vary widely in stability based on specific composition, meaning you may need to spring for a high-end product line to get the stability you're looking for. MBC products, however, all have equivalent stability regardless of other features that may impact overall cost.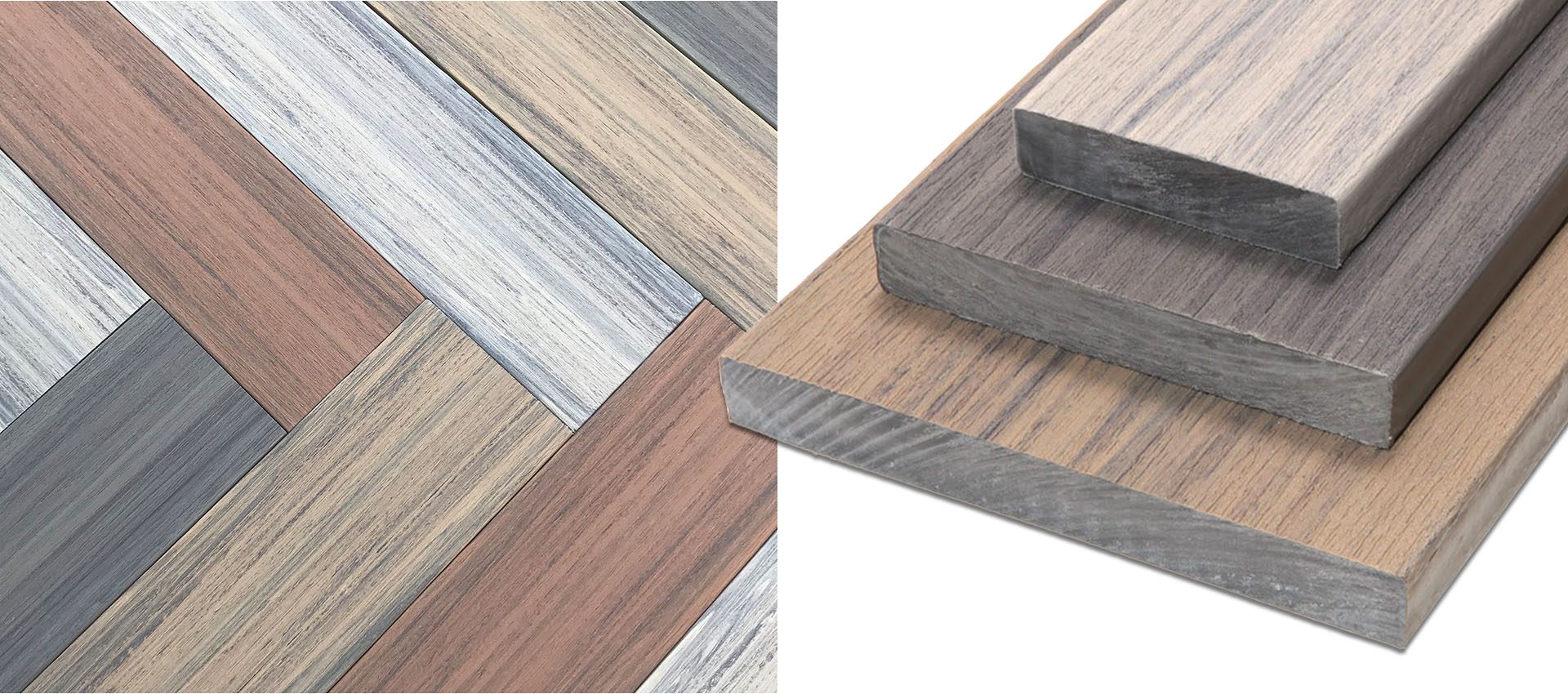 Color and Texture Options
When you're choosing a composite deck, aesthetics vary widely and are a matter of personal taste. While many homeowners seek out a composite that looks like wood, others prefer a bolder color or a finish that looks decidedly different from wood grain. Deckorators offers a variety of colors and textures that will match any style.
Deckorators mineral-based composite boards are featured in three of their product lines – Voyage, Vault and Picture Frame. Voyage is their top-of-the-line composite, offering the most variety and the most high-end appearance. Voyage comes in six different colors, all with a vertical variegation designed to look like straight wood grain. The Vault line comes in two colors with cathedral variegation, and the Picture Frame boards comes in Dark Slate, providing the right option to finish your deck without exposed ends.
The combination of material and texture on the Deckorators Voyage and Vault lines also yields 34% greater surface traction than other leading composite brands – a benefit that extends far beyond aesthetics.
Extraordinary Warranty
How can you trust that Deckorators will deliver on all these promises? The extraordinary warranty.
Deckorators MBC product lines come with a 50 year structural warranty. That means the manufacturer guarantees the performance of the materials for 50 years. They also come with a 25 year stain and fade warranty, and a 25 year removal and replacement (or labor) warranty – this labor coverage is uncommon peace of mind for Deckorators customers.
Simply put, Deckorators provides a better warranty, more protection and better purchase support than you'll find from anyone else.
The math is pretty clear – Deckorators MBC boards are superior in composition and manufacturer support, and the warranty coverage puts their money where their mouths are!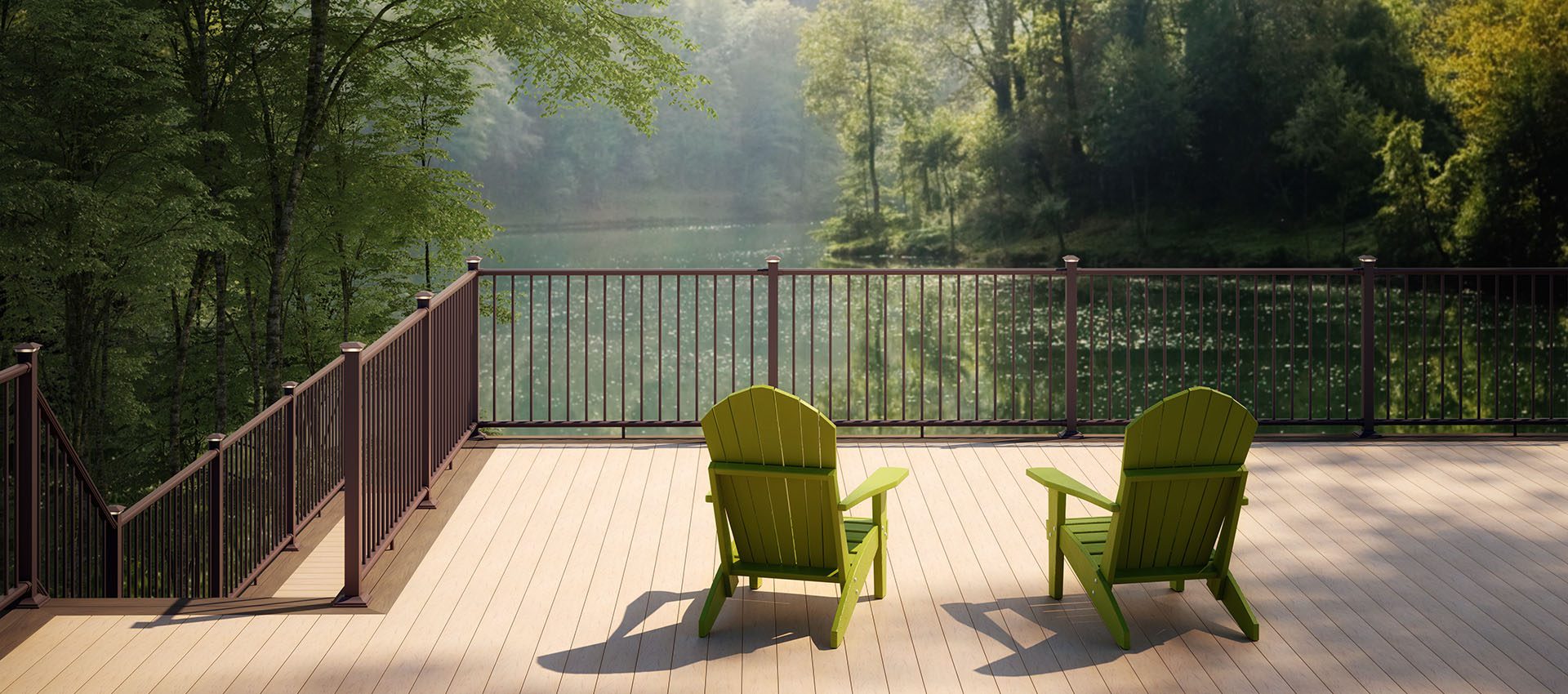 Deckorators: The Only Composite Deck Recommended by Russin
At Russin, we're in the business of providing the right materials to our customers. We proudly distribute products and materials across a wide variety of price points, aesthetics and applications. When it comes to composite decking materials, there is only one that we recommend, and that's Deckorators.
Most composite decking materials share a few common characteristics. In general, they are easier to clean and maintain than wood decks, and they typically offer better stain and scratch resistance. Composites are resistant to termites and rot, and don't require any staining or finishing over their lifetime.
However, when compared to other leading composites on the market, such as wood and plastic composite or PVC composite, Deckorators MBC is consistently the material that performs the best. Whether you're looking for workability, strength, durability, stability, variety, surface traction, or industry-leading warranty, Deckorators mineral-based composite decking is the right choice.
When you're shopping for a deck, our experienced professionals are here to help! Request a consultation today and we'll get you started.