Hamptons-Style Exterior House Design Ideas for 2023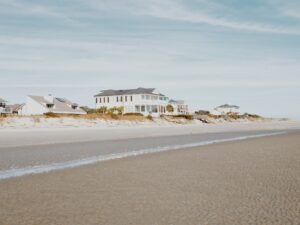 There's a casual luxury found in Hamptons-style homes. They evoke both the charm of a summer beach cottage and a lifestyle of coastal sophistication. The Hamptons style manages to merge elegance and ease effortlessly, so it's no wonder this design motif is a top choice for homeowners and designers everywhere.
Hamptons-style homes originated in the coastal towns of the Hamptons in Long Island, New York. It's a contemporary take on traditional beach architecture that focuses on outdoor living, airy interiors and light-filled spaces.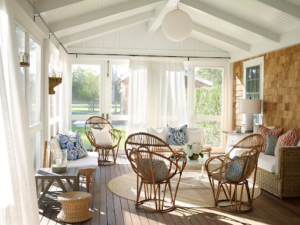 Hamptons-style home interiors typically feature an open floor plan, white-washed walls and plenty of natural light. What about the exteriors? We're glad you asked! Let's take a closer look at Hamptons-style exterior home design ideas. 
Design Aspects of Hamptons-Style House Exteriors
What features make up a Hampton-style exterior house design? These six areas are the must-have features.
1. Gray or Light-Colored Exteriors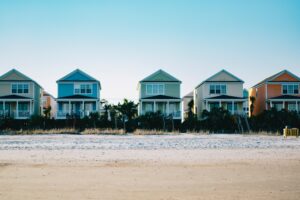 It isn't truly a Hampton-style exterior house design if the exterior isn't gray or light-colored. These homes pull from beachy themes because lighter colors help reflect the summer sunlight and keep the home cooler inside. 
Lighter colors also help to brighten up any space and create a fresh and airy aesthetic. Typically, the exterior siding is horizontal cladding because the clean lines and simple design work well for the timeless Hampton style.
2. Symmetrical Exteriors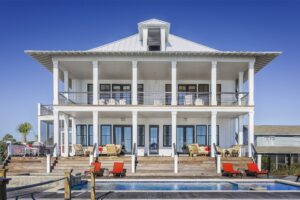 Hampton-style homes typically have symmetrical exteriors to create a sense of balance, harmony and order. As modern home design has taken hold, Hampton-style homes have adapted. While their core aesthetic remains, the injection of modern aesthetics have given Hampton-style homes a new lease on life. That said, the very symmetric traditional style is still beloved and can be seen in new builds.
3. Large Windows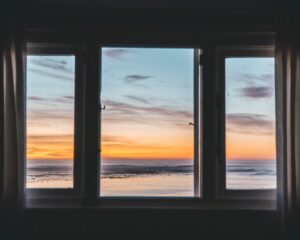 Natural light is a must-have in coastal homes, and to have natural light, you must have large windows. Large windows allow you to take in the sunlight and get the most out of the view you're paying for. Even if you aren't in the Hamptons, countless studies have shown the benefits of natural light and exposure to nature. 
4. Outdoor Living Areas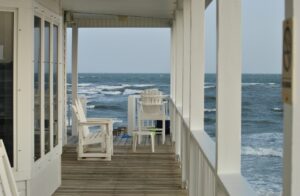 Hampton homes are all about embracing nature with as many senses as possible. With this in mind, beautiful outdoor living areas are a critical component to nailing the Hampton-style aesthetic. Within the outdoor living area, there are several must-have features, including:
Decking

Porch Flooring

Railing

Siding

Boards and Trim
In general, all these features follow the same light and bright aesthetic we've already discussed. However, the material considerations for each are incredibly important. Let's dig in.
Decking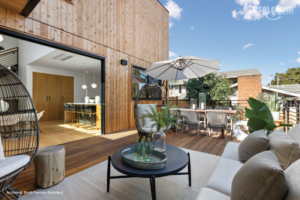 First and foremost, when it comes to decking material, you must consider durability and the deck's ability to withstand coastal weather conditions. If it isn't weather-resistant, it's likely to rot or warp when frequently exposed to sea-salt spray, direct sunlight and harsh winters. Thermory, a thermally-modified decking with rot resistance, is an elegant solution for those who aren't interested in composite.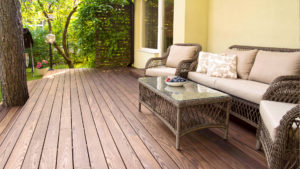 Even in cold and wet environments, wood can be a long-term solution. Often, there is a worry about wood and weather, but that's really a question of the quality of wood rather than wood in general. 
Cedar is well-known for its weather-resistant properties, and there is no finer species than Western Red Cedar. This is a fantastic choice for not only crafting a durable, long-lasting deck but a beautiful one.
Porch Flooring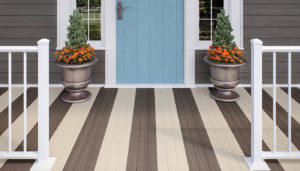 The porch flooring needs to dazzle and perform. That's why Deckorators® Mineral-Based Composite (MBC) Porch Flooring is a perfect solution. It's durable and comes in beautiful neutral and beachy colors that are sure to fit within a Hampton-style motif.
Railing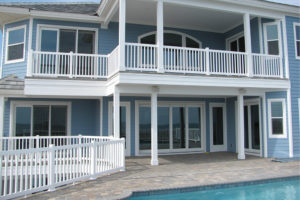 No outdoor living space is complete (or code-compliant) without railing railings. When it comes to the Hampton-style motif, you'll want to choose a railing that's durable and stylish. The aluminum Deckorators ALX Contemporary railing system is perfect for the traditional style while more modern Hamptons homes can utilize glass railing solutions from Invisirail.  
Siding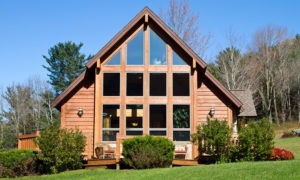 As with all the other outdoor living area features, you will want to choose a high-quality wood or material when opting for siding. You also want a natural option that looks great as it is or one that you can easily paint over, like Thermory or AZEK Captivate when looking for engineered polymers instead of real wood.
Boards and Trim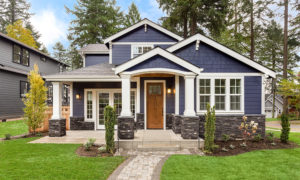 For the boards and trim, AZEK Captivate is a gorgeous, no-fuss option. Captivate™ siding and trim combine AZEK® engineered polymers, PaintPro® technology surface prep and automated painting with top-tier solar-reflective coatings and environmentally controlled curing.
Create Your Dream Hampton-Style Exterior House Design with Superior Materials
Ultimately, Hampton-style home exteriors are gorgeous and effortless. They merge luxury and relaxed vibes with relative ease. So if you're ready to start crafting your Hampton home's exterior, our team at Russin can help!
At Russin, we specialize in high-end exterior materials for your decking, siding, porch flooring, railing system, boards, trim and more. Check out our full line of products or contact us today to learn more!