Exploring Wood Siding Options: The Timeless Appeal of Cedar
What is Cedar Wood Siding?
Western Red Cedar, a wood species native to British Columbia, is renowned for its distinctive reddish hue, straight grain, uniform texture, and captivating aroma. Its rich and warm color palette ranges from light amber to deep honey brown.
Beyond decking, this timber's natural allure makes it a popular choice for a wide array of construction projects, including siding, roofing, paneling and fencing. In addition, Western Red Cedar boasts a lower density compared to many other wood species, which makes it more manageable and adaptable to specific design requirements.
Benefits of Cedar Siding

Cedar siding, especially Western Red Cedar, is a highly sought-after material for both residential and commercial properties due to its numerous benefits.
Natural Beauty
Cedar cladding is celebrated for its deep, reddish-brown hue that infuses a natural coziness and sophistication to any structure. The delicate pattern and appealing surface of the cedar further augment its inherent charm, which makes it a favorite option for individuals aiming for a perennial and refined visual appeal.
Ease of Finishing with Stains
Cedar can be finished with clear or semi-transparent stains to provide many color options while still showing the wood's natural beauty. This makes it easy to change your siding's look to match your design tastes.
Options in Patterns and Designs
Cedar siding is available in a variety of patterns and designs, from traditional bevel siding to rustic board and batten to a sleek, modern tongue and groove. This allows for a great deal of flexibility in design and ensures that there is a cedar siding option to suit any architectural style.
Choice of Grades
Cedar siding is available in a range of grades, from clear grades with minimal knots and imperfections to knotty grades that offer a more rustic appearance. This means you can choose the grade that best suits your design preferences and budget.
Vale Cedar Siding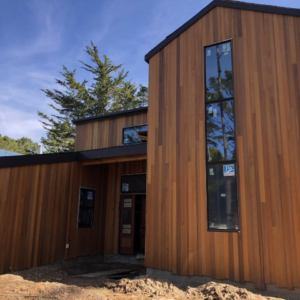 The Vale is an architecturally designed real wood siding made from Western Red Cedar. Its tongue and groove panels, along with a jointed and edge-glued rear surface, provide increased stability and resistance to cupping and twisting. By uniting smaller lumber pieces, it minimizes waste while showcasing the beauty of this valuable natural element.
Comparison with Modern Materials
The three most popular materials used for siding are vinyl, composite and fiber cement. While each has its benefits, all-natural cedar is still the best choice.
Vinyl Siding
Vinyl siding is appreciated for its low maintenance requirements and durability. However, it falls short in comparison to cedar wood siding in several ways.
Vinyl lacks the warmth and natural beauty of cedar and often looks plastic-like.

Over time, vinyl can also fade and crack, which can affect its appearance and possibly necessitate repair or replacement.

Vinyl can be manufactured to mimic the appearance of wood, but it can never fully replicate the genuine, natural aesthetic of cedar wood siding.
Composite Siding
Composite siding, composed of a combination of wood fibers and plastic resins, integrates some of the positive aspects of both materials, but still falls short:
It is fairly sturdy and can withstand weathering. However, it usually costs more than natural wood.

The use of artificial woodgrain means it doesn't have the same natural look as real wood.
Fiber-Cement Siding
Fiber-cement cladding is praised for its remarkable sturdiness, fire resistance, defense against insects and rot and capability to imitate the appearance of various materials, including wood. However, its basic structure makes it less attractive for those seeking the look of real wood.
The weight of fiber-cement siding makes it more challenging and labor-intensive to install. It also requires special equipment to cut the material.

Fiber-cement siding can be engineered to resemble the appearance of wood, but it lacks the natural warmth and texture inherent in genuine cedar wood siding. 

The production process of fiber-cement siding demands substantial energy and results in the emission of greenhouse gasses. Conversely, cedar wood siding is a natural, renewable resource.

Plus, it contains silica dust which is a known carcinogen. The installation instructions warn you to wear a dust mask and inform your neighbors before cutting it!
Discover the Best Options for Cedar from Russin
Russin offers a variety of cedar wood siding options to suit any home design. Whether you prefer the traditional look of bevel siding, the rustic charm of board and batten or the sleek, modern aesthetic of tongue and groove, we have the perfect option for you. 
All of our cedar siding products are sourced from sustainably managed forests and are available in a range of grades and finishes to suit your budget and design needs. Contact us today, or you can schedule a consultation to speak with an expert!