How Russin Made a Dealer $18,000 in Five Minutes
"Wait!! Hang on!!! We can help you!!!"
Our salesperson raced outside at the speed of a gazelle. He was a man on a mission. A man who, fortunately, had ran track in high school. He caught the contractor just as he was getting back to his car.
"Thanks for stopping into the store. The gentleman you spoke to on the counter was just unaware of every service his company has access to. Do you have one more minute? Come on back inside; we can help you."
What had sent our salesperson back to his sprinting days was a conversation he'd overheard at one of our best dealers' counters. The contractor had walked in with a wood sample under his arm. "Do you guys have this?" he asked the dealer rep.
"Nope, never seen that before, sorry," came the quick reply from the seller on the counter.
"Thanks anyway," said the contractor, and turned on his heel, headed back for his car.
Overhearing this, our salesperson threw on the afterburners, because he saw an opportunity to help. Once the contractor came back inside, our salesperson reminded both him and the counter salesperson of our ability to custom-mill and custom-finish any wood species. Since the species and grade the contractor most desired, A&Btr Western Red Cedar, was already in our inventory, this was an easy one.
Less than five minutes later, the contractor let out an audible sigh of relief. "I'm so glad I came back in," he said. "I've been looking all over town for a way to match this profile. I thought I was going to have to let the client down."
With that, the counter salesperson took his credit card for the deposit – an $18,000 custom-milled cedar siding order that would never have materialized had we not helped train on how we can help fulfill challenging projects. And, once the contractor gets more information on final color from the client, we'll add further value to this order with a factory-applied finish.
We can't promise that all of our salespeople are track stars. But they are all experts in wood exteriors, and we love helping our dealers to learn more ways to say yes. Let's schedule a training session so your sellers always say yes, too!
About the Author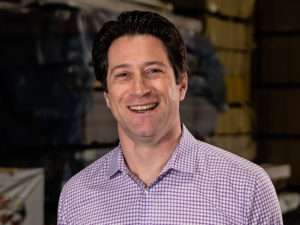 Jordan Russin is the 3rd generation Co-Owner and Co-President of Russin. His passion for the lumber industry, custom homeowners and architects, and the Russin team knows no bounds. When he's not working you can find him skiing with his family, climbing mountains, or with his nose buried in a book.