Understanding Cedar vs. Composite Decking
Cedar and composite decking materials are two of the most popular options for building outdoor living areas. But deciding which of these materials is best for you can be tough. In this article, we will look at how they compare and give you a clearer picture of which option makes the most sense for your budget, climate, aesthetics and maintenance needs.
What is Cedar Decking and What Are its Benefits?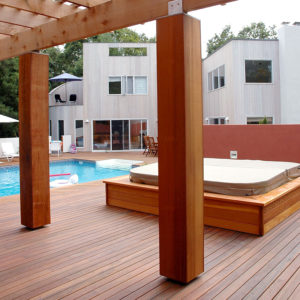 Cedar decking is a popular choice for outdoor living spaces because it is durable and provides the natural beauty of color and grain texture that is difficult to replicate with synthetic materials. There are many different species of cedar, but one of the most popular is Western Red Cedar.
Structurally sound and easy to work with, Western Red Cedar boards are ideal for decking material. This relatively lightweight wood makes it easier to work with during the construction process. Another benefit of cedar decking is its resistance to rot and pests. 
Cedar contains natural oils that discourage pests and help the wood withstand moisture better than other types of wood. No matter which species you choose for your project, you can rest assured that you are adding value and beauty to your home with a new outdoor living space.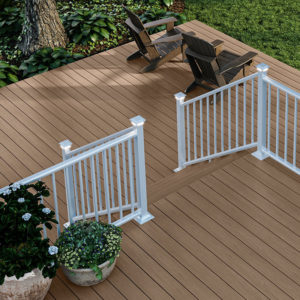 What is Composite Decking and What Are its Benefits?
Composite decking is a great choice for many homeowners because it provides several benefits over traditional wood decking. 
Composite decking is more durable than pressure-treated wood and it resists fading, staining, and mold. It also requires less maintenance – no sanding, painting, or sealing required. Composite decking is also eco-friendly because it's made from recycled materials.
In addition, it doesn't absorb moisture like wood, so it's less likely to warp or rot.
How Does Cedar Decking Compare to Composite Decking?
When comparing cedar to composite decking, both options have their pros and cons. 
Cedar grows relatively quickly and does not require harsh chemicals or toxic treatments during its production. In terms of cost, cedar decking falls somewhere between pressure-treated lumber and high-end composite decking. Cedar is also a popular choice for many homeowners, because it is durable, has a natural resistance to rot and insect damage, and it is easy to work with.
However, cedar decks require more maintenance than composite decks. Cedar must be regularly sealed and stained to protect it from the elements, and it will eventually turn gray if left untreated. Composite decking is mostly made from a mixture of wood fibers and plastic, which makes it more resistant to rot and insect damage than cedar. Composite decking is also less likely to fade or warp over time.
Yet not all composite decking is the same. In fact some types of composite decking don't contain any wood fiber at all. Instead of a mixture of wood fibers and plastic, some  composite deck boards utilize an advanced mineral-based composite (MBC) technology. MBC decks are low-maintenance, budget friendly and durable.
But the increased durability of composite decking comes with some minor drawbacks. Specifically, most composite decking is more expensive than cedar decking. And, from an aesthetic perspective, the natural look of cedar often compliments a home's exterior design better than most composites. 

Methods of Installation
Both cedar and composite decking can be installed with nails and/or screws. Most contractors and homeowners prefer a hidden fastener system, which secures the deck boards to the frame but hides the screws. This method provides a professional finish and reduces the damage that happens to a deck board from hammer marks or drill bits.
Which Type of Decking Should You Choose for Your Home?
If you are looking for a decking material that is low-maintenance, eco-friendly, and resistant to fading and staining, composite decking may be the right choice for you. However, if you are looking for a more natural look, cedar decking may be a better option.
Your final decision should be made after consulting with a contractor to determine which option will produce the best-finished product. Using composite deck boards could substantially increase the cost of your deck, depending upon your design. As they are generally sold in 12-feet, 16-feet and 20-feet lengths, you may have to buy longer lengths than necessary to complete your project. Cedar may be available in lengths that properly match your needs. Your builder can help you figure out the cost difference.
Russin is the Premier Supplier of Cedar and Composite Deck Products in the Northeast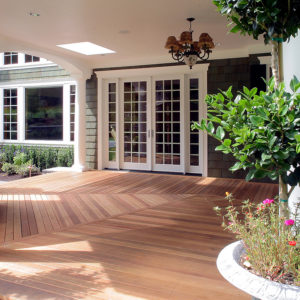 No matter which type of decking you choose, Russin is here to help. We offer a wide variety of hardwoods such as Cedar, Ipe, Island Decking, Kirana, Decorators composite and thermally modified wood decking products. In addition, we provide the hardware and accessories you need to build the perfect outdoor living space for your home. We also offer custom milling and factory finishing. 
Contact us today to learn more!