Best Decking Material Options for Cold Northeast Climates and Residential Projects in 2023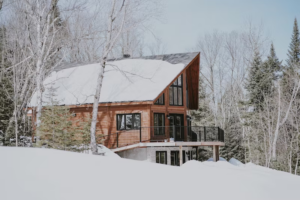 It's no secret that the northeast part of the U.S. is known for its frigid winters and often unpredictable weather. As a homeowner or contractor in this area, it's vital that your deck is built with durable, high-quality materials that can stand up to the coldest months of the year so it's ready when spring arrives.
Because there are so many decking materials to choose from, it can be challenging for our customers to know which one is right for their project. That's why we've taken the time to put together a list of the best decking materials for the northeast climates.
Wood
Wood is one of the most popular decking materials, and for good reason. Not only is it aesthetically pleasing, but it is also incredibly durable and weather-resistant. This makes it an excellent choice for cold northeast climates, as it can withstand the harsh elements of Northeastern winters while also creating an inviting, accessible outdoor space.
Of course, wood is a classic and incredibly popular option, but there are some wood species that perform better in our region than others. Here are a few wood material options you should consider for your next Northeast wooden deck project:
Western Red Cedar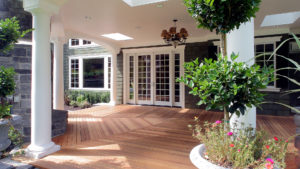 Western Red Cedar is one of the gold standards in decking material. It's known for its beautiful color and breathtaking aesthetic. Plus, it has a natural scent that is perfect for creating an incredible outdoor sensory experience.
When it comes to installation, Western Red Cedar tends to lie straight and flat to create a structurally solid deck that can last decades. It is lightweight and highly durable, which makes it a favorite among contractors and DIYers.
Alaskan Yellow Cedar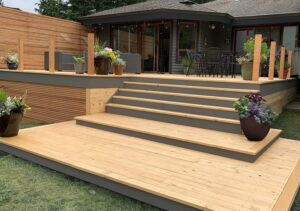 Alaskan Yellow Cedar is a great alternative to western red cedar due to its similar resistance to moisture, pests and super cold temperatures. It has a unique yellow hue that can add a ton of warmth to any outdoor setting.
Like all cedar products, Alaskan Yellow Cedar is incredibly durable and easy to install. Once installed, it absolutely shines when in contact with direct lighting. This type of wood is reserved for the modern home designer who understands the value of high-quality wood and knows what they want.
Black Label Decking
Black Label Decking is an incredibly durable material that can withstand freezing temperatures. It is also resistant to normal wear and tear and looks terrific when paired with chic outdoor furniture.
This responsibly-sourced Indonesian hardwood comes in a wide selection of rich colors and tight-grained designs at a price that may surprise you. It makes Black Label Decking one of the top choices for homeowners and home developers.
Island Decking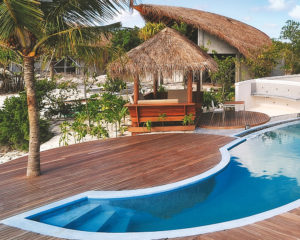 Island Decking is another excellent option for decking in the colder climates of the Northeast. Responsibly sourced from Malaysia, this hardwood type is incredibly durable, and is at the top of the list in terms of strength. Plus, it's extremely affordable and versatile, which makes it an ideal material option for residential decks.
If that wasn't enough, Island Decking can transform your outdoor space into an exotic paradise fit for the well-traveled and adventurous. It's a beautiful addition to any home.
Composite
When it comes to decking material in cold Northeast climates, composite is another excellent choice that can revolutionize your outdoor space. Although it has a higher upfront cost than traditional wood decking, composite has several key advantages that make it an attractive choice for colder climates.
It's incredibly durable and low-maintenance. It's typically made from recycled materials, so it is an ideal choice for homeowners who want to reduce their environmental impact. The material is slip-resistant and non-porous, which makes it perfect for wet and snowy climates.
Deckorators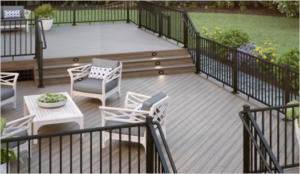 Deckorators® composite deck boards are incredibly strong and resistant to moisture, pests and frigid temperatures. Another upside is the available colors and board widths that can help create any look you can imagine!
Thermory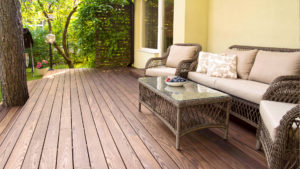 As the name implies, Thermory is a thermally modified wood harvested in naturally-renewing forests. It has a rot-resistant core, which makes it one of the market's most durable decking material options. Due to the innovative design, the boards are straightforward to install.
Bonus: Porcelain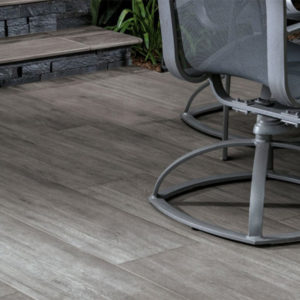 Yes, we know it's not wood or anything typically looks like it but Porcelain is another incredible material option for colder climates like the Northeast. Our Mbrico deck tiles are a new and improved take on the classic and will transform what you thought a porcelain deck could be. It is the industry's first comprehensive, easy-to-install, grout-free porcelain tile decking system.
It's shipped ready-to-install, so it is an ideal option for DIYers and professional contractors. Mbrico deck tiles also boast many other benefits, including affordability, high durability, scratch resistance and stain resistance. Plus, they're relatively maintenance-free and super easy to clean.
Get the Best Material Options for the Northeast Climates with Russin
If you're considering building an affordable, long-lasting deck for your property, it's important to consider the best materials on the market. Whether you want to use wood, composite or porcelain, we have you covered!
At Russin, we pride ourselves on carrying the highest quality, cost-effective building materials on the market. We offer expert-level guidance and unrivaled customer service. Speak to one of our home improvement experts today to learn more!