Should I Use Western Red Cedar or Alaskan Yellow Cedar Wood?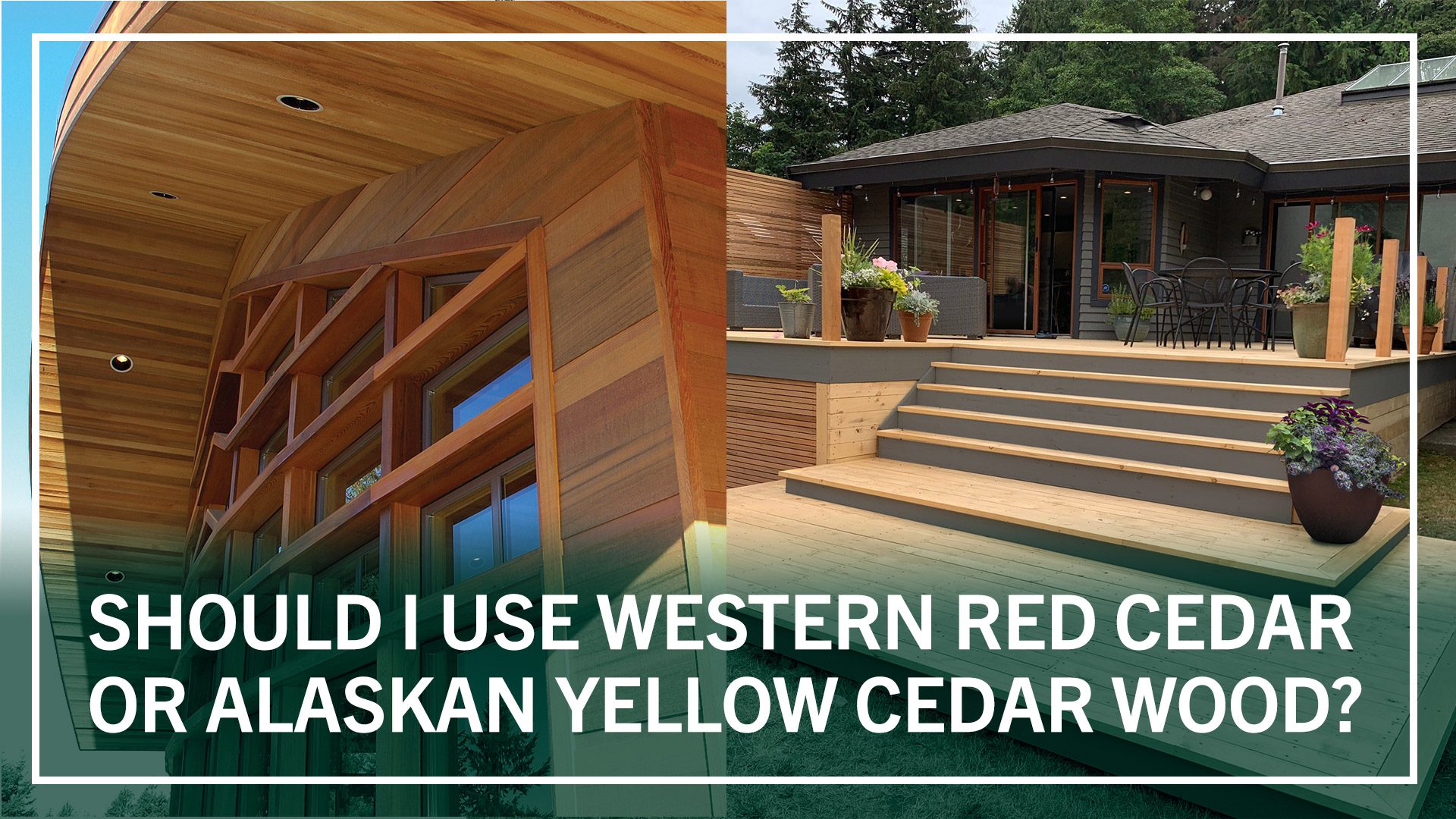 Cedar is a versatile and durable softwood that is prized for many reasons. It is naturally weather and insect resistant, gives off a pleasant and recognizable scent, and is aesthetically attractive to look at.
Cedar hardly shrinks, swells, warps, or decays, even when there are severe changes in weather, enabling it to withstand many conditions. It is also a porous wood, which gives it the ability to absorb sound and offer some natural noise insulation.
All-natural wood products have been shown to have the least impact on the environment through their life cycle. Cedar requires less energy to produce than man-made alternatives; the wood is biodegradable and completely renewable and sustainable.
For all of those reasons, cedar wood is a popular natural choice within the building industry for both indoor and outdoor applications such as decking and siding. While there are many types of cedar options, two of the most common species include Western Red Cedar and Alaskan Yellow Cedar. So which one is the right choice for you and your project? We'll break it down for you.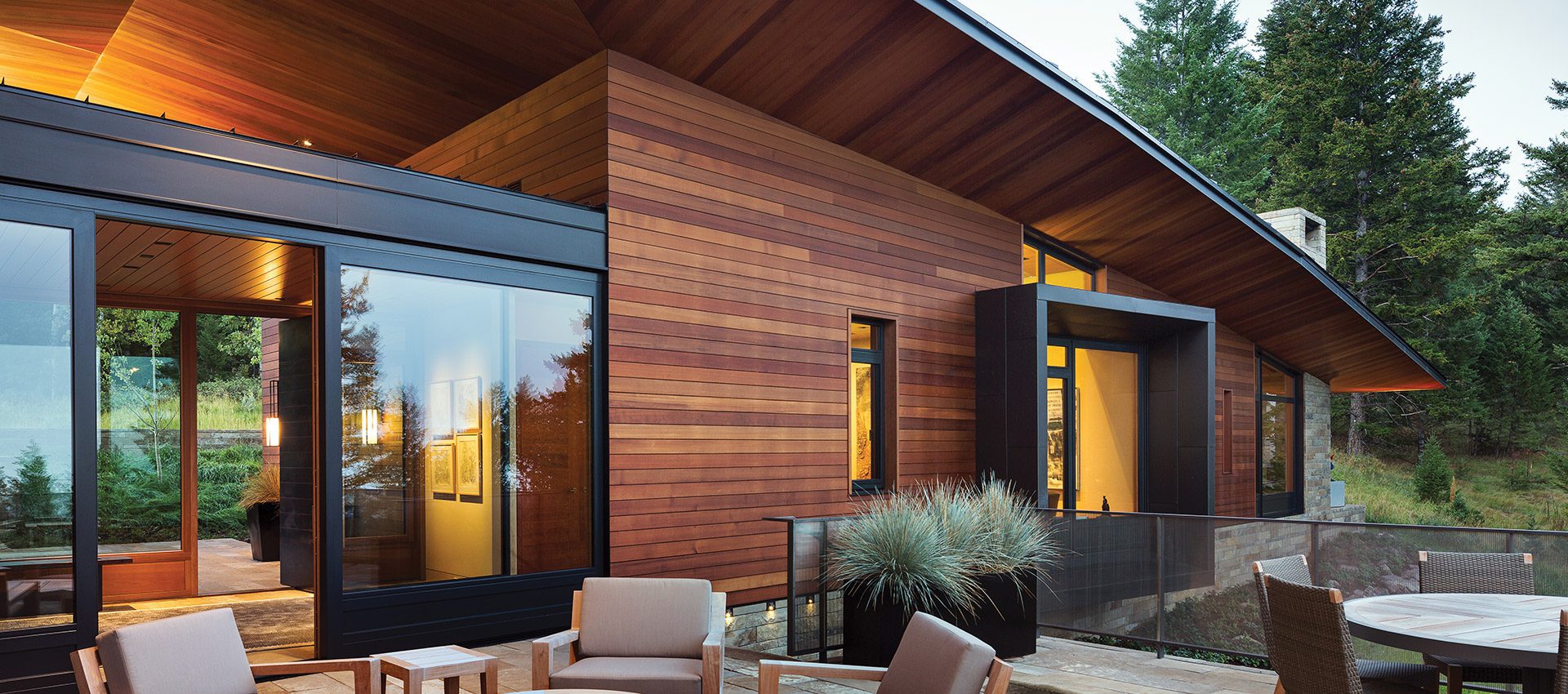 Western Red Cedar
With Western Red Cedar, your options are endless. Western Red Cedar (Thuja plicata) grows with a straight grain and a medium to coarse texture, offering a high degree of workability. It encompasses a broad variety of colors, from pinkish-brown to yellowish-white, so your project is guaranteed to have a stunningly dynamic aesthetic.
Durability and Strength
One of the lightest commercial softwoods, the density of Western Red Cedar at oven-dry conditions is approximately 21 pounds per cubic foot, with a relative density (specific gravity) of 0.32. 
With its low density and high proportion of air spaces, Western Red Cedar is the best thermal insulator among the commonly available softwood species and is far superior to brick, concrete, and steel. 
Historically, native peoples of the Pacific coast prized Western Red Cedar for its long-lasting qualities and used its wood and bark to make canoes and boats. Evidence of cedar's durability can be found in the many cedar artifacts still in good condition today. 
How is it Sourced?
Western Red Cedar primarily grows in British Columbia and the Pacific Northwest Coast of the United States. Western Red Cedar is sustainably harvested and abundant in its respective growing climate. Species such as WRC leave the smallest carbon footprint when compared to other building materials. This is because wood requires much less energy to produce than concrete or steel. Additionally, building with cedar helps reduce greenhouse gasses since trees take in carbon dioxide and release oxygen as they grow.
Why It Could Be a Good Choice For Your Project
Because of its beauty and versatility, Western Red Cedar is used in building projects that are meant to make a statement. You can easily use WRC for your siding, decking, fences, trim, pergolas, planters, screens, garden furniture, and more. 
Brent Stuart, Russin's cedar guru says, "Western Red Cedar traditionally has been used in both exterior and interior applications because it dries easily and is stable. It doesn't move much or get much shrinkage. It cuts easy, works easy, and paints and stains very well. While it's diverse in its uses, Western Red Cedar shines with siding or interior applications."
Alaskan Yellow Cedar
Alaskan Yellow Cedar technically isn't cedar at all—it's a cypress. But it is used in many of the same applications as cedar, which is why it's categorized as such. As the name suggests, Alaskan Yellow Cedar is light yellow or white in color. The grain on AYC is usually straight and has a uniform medium to fine texture, with the straight grain helping to make this an easy wood to work with. 
Durability and Strength
Though categorized as a softwood, Alaskan Yellow Cedar is exceptionally dense. At 29 lbs. per cubic foot, this density means it stands up to wear and tear even better than Western Red Cedar. Also unlike most softwoods, Yellow Cedar's density across single growth rings is quite uniform, making it a good species for carving and woodworking. 
Alaskan Yellow Cedar, like Western Red Cedar, also has good insulating properties and is more resistant to fire than some species. 
How is it Sourced?
Alaskan Yellow Cedar (or Cupressus nootkatensis) has long been culturally important to Native people of the Pacific Northwest. It grows throughout the PNW as well as parts of  Western Canada. 
At higher elevations, it is found with mountain hemlock and amabilis fir. Yellow Cedar trees often reach 1,000 years of age, and some may be as old as 2,000 years.
Forest-wide conservation and management strategies for Yellow Cedar are being developed to take climate change into account. As coastal Alaska is expected to experience less snow, but periodic cold weather events in the future, scientists are working with partners to create a comprehensive conservation strategy. However, this wood species is not currently listed as endangered and is reported by the International Union for Conservation of Nature (IUCN) as being a species of least concern. 
Why it Could Be A Good Choice For Your Project
Because of its uniform appearance, Alaskan Yellow Cedar is used in applications that call for an elegant look without compromising durability. This is why it is often seen as a popular structural accent in Japanese architecture.  
Alaskan Yellow Cedar is ideally suited for almost any outdoor or indoor project, including decks, stairs, patio covers, trim, paneling, and more. This species lasts longer, stands up to the elements, and is harder than most commercial softwoods, making it an ideal choice when strength and workability are desired. 
Cedar guru Brent Stuart says, "Alaskan Yellow Cedar shines because it's durable. It's a great choice for high-traffic areas like decks, staircases, and landscape installations that tend to get dinged or erode quickly because it can take a little more of a beating."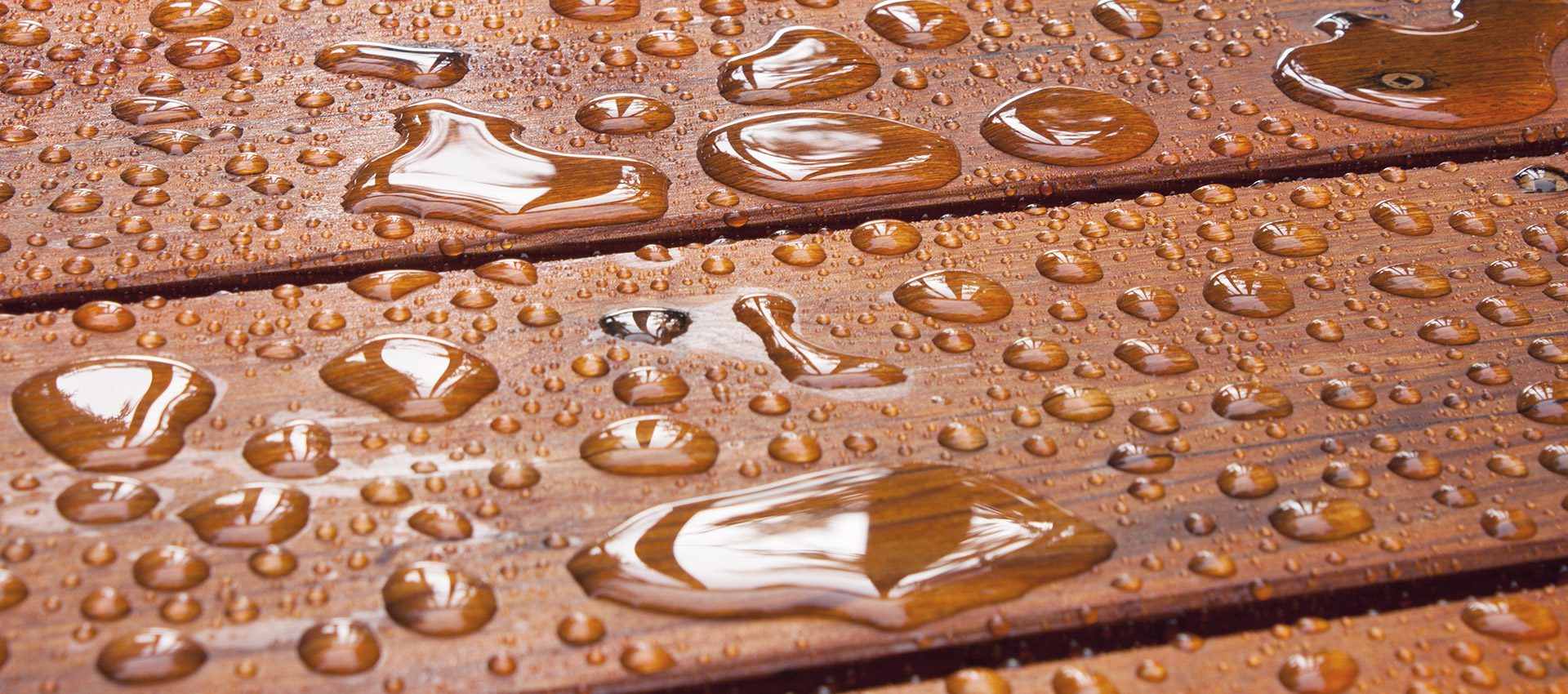 How to Take Care of Your Cedar Wood Project
New cedar should be protected from the weather before, during, and after construction. It is important to understand that the choice of whether or not to apply a finish to your cedar product has long-term implications. 
Finishing
Cedar is pitch and resin-free, which means it accepts and holds a wide range of finishes beautifully. You may choose to do nothing if you're comfortable with the natural aging process wood takes over time and exposure to the elements, but for optimal performance, a coating should be applied even when a natural, silvery patina is desired.
You can also choose from a vast selection of finishing products that enhance the look, as well as condition the wood. With transparent stains, you can protect the wood fiber while enabling rapid silvering. With semi-transparents, you can choose a tint that will add drama to your outdoor living space or give your deck a decidedly modern look. Opaque coatings provide great longevity and limitless color options. 
Another great option for taking care of your cedar decking or siding from the beginning is factory finishing. Russin has an in-house finishing facility that makes protecting and coating your wood a smart and easy choice. Getting the coatings applied in our factory is generally cheaper than the labor costs of hiring a painting crew to finish in the field. A high-quality factory finish will endure longer than a field finish, giving you more time between applications, lowering maintenance costs, and extending the life of your project.
Decking & Siding Maintenance
It's good practice to clean your cedar deck or siding once a year. All you need to do is remove debris and then wash it with a mild detergent solution. If mold is present, wash with a mild oxygen bleach solution. If your deck or siding is finished with a semi-transparent stain, you need to reapply the product as directed – usually every two or three years. It should be noted that *any* outdoor finish will likely need to be reapplied to keep the color or UV protection. For the lowest maintenance option, you can apply a penetrating oil and let your deck weather naturally, eventually turning into a beautiful silvery patina.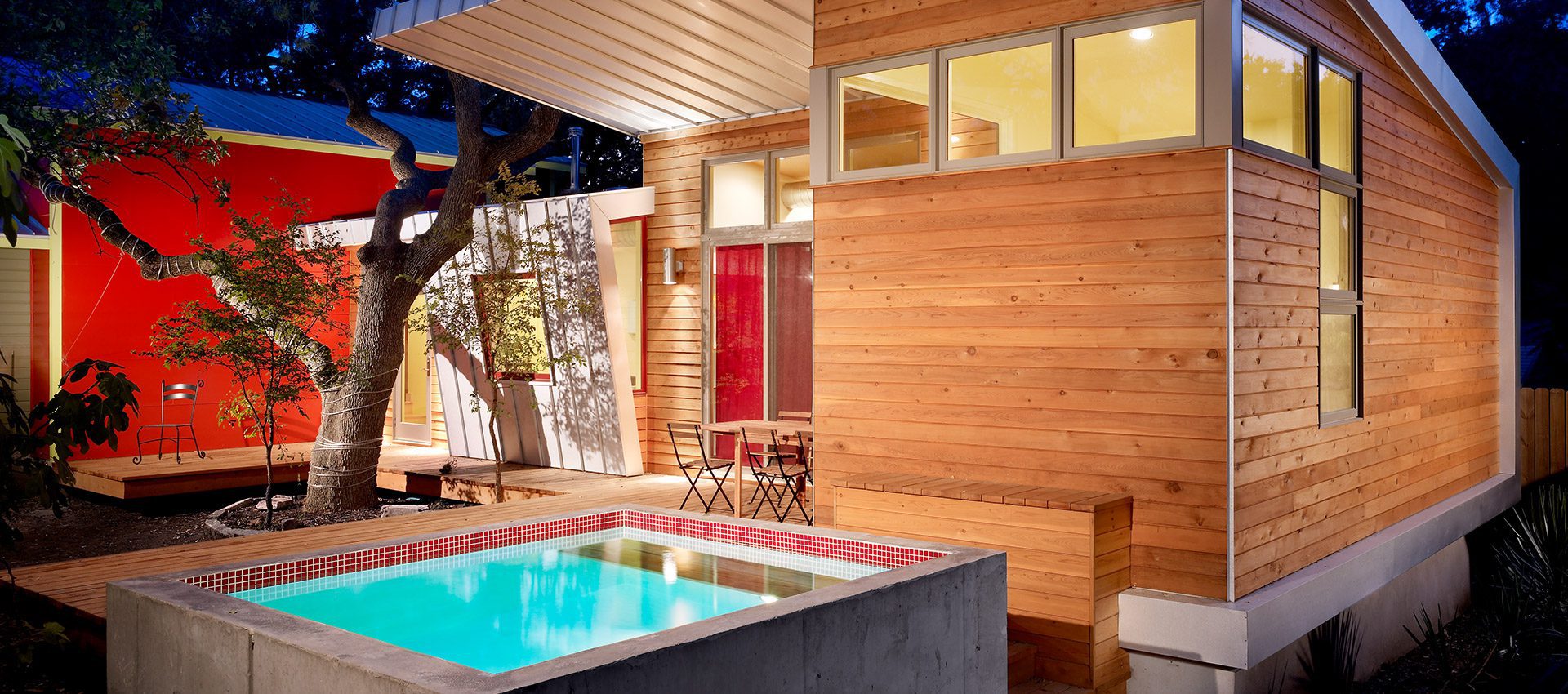 Real Cedar Wood: A Durable, Beautiful Choice
Cedar has been a prized building material for thousands of years due to its versatility, longevity, and natural beauty. It's also incredibly lightweight, so it's easy to move around the worksite, and it's easy, cut, saw, nail, and glue.
Western Red Cedar offers a variety of rich color profiles that can add dimension and drama to any project. While it's a softwood, it has historically been used for things like boat construction, making it as functional as it is beautiful. 
Alaskan Yellow Cedar has also been highly prized both domestically and abroad for its strength and elegance. It is well known as the hardest "cedar" in the world, as well as having a high resistance to disease and decay. 
No matter which species you choose for your project, you will be getting an aromatic, beautiful, and long-lasting material that will enhance your home and property. 
Russin carries a huge variety of cedar applications and profiles. We also offer custom milling, meaning that no matter what you're hoping to create with cedar, we can help you make it possible.